From April 2017, the water market is opening up to allow business customers in England who use more than 50,000 units of water a year to choose their own water supplier. This is an arrangement that's been in place in Scotland since 2008 and is now being rolled out into English commercial water supply too.
Whilst the potential cost benefits of deregulation have been well documented, it's clear that this will also bring changes to how the water supply infrastructure – particularly on client premises – is managed. For example when supply is interrupted, or major supply investigation & repair work is required.
Each licenced water supplier will of course have their approved leakage detection and repair contractors, in-house or outsourced, but with suppliers potentially covering the whole of England rather than their historic geographical 'patch', cost benefits are soon eroded if a chosen contractor has to travel significant distances away from base to undertake works or investigations. Token Engineering has the expertise, experience and equipment to conduct works for remote licenced water supply companies.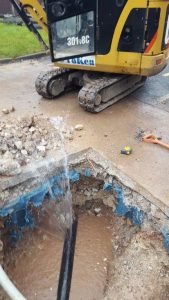 Token Engineering Services has been providing leak detection and repair services to a range of clients throughout the UK over the past 13 years being ideally situated close to the M6/M62 motorway hub allowing us to easily travel to any direction in England and be on the motorway network within 10 minutes.
We are recognised by the wholesale Water Authorities of United Utilities and Yorkshire Water and understand their systems to enable efficient response to customer issues as and when required.
Although small in size, Token Engineering prides itself on being able to respond to a client's diverse needs at short notice.
United Utilities' own retail organisation (Water Plus), has, and continues to benefit from the reactive engineering service offered by Token Engineering.
Token Engineering utilise their own resource for the majority of assignments but occasionally call on the services of partnering contractors specialising in both leak detection & repair, thus permitting a greater area of coverage at competitive prices.
Token Engineering is happy to deal direct with clients or through the licensed water providers, subject to agreement by all parties.
Whilst deregulation does not affect smaller business customers and domestic supplies, Token can offer a competitively priced solution to their problems too.
Whatever your circumstances or organisation, call our duty engineer on 07747 783072 to find out more.