As we move towards deregulation for the supply of water to English commercial customers taking more than 50,000 units of water per year, there's concern in some quarters about the actual physical implications of the change.
Previously, the water supply organisations tended to operate in regional, geographically isolated areas and could easily muster their engineering support services to serve client sites within those known boundaries. But now that supplier & client may be hundreds of miles apart, just how will the water retailers deal with clients in a state of distress over water leakage – leakage that could at best be financially painful or at worst, shut down or restrict production.
What's clear is that new water retail customers will be shopping not just on price but also responsiveness & customer service in the event of any disruption to supply. And that's where the skills of Token Engineering come in.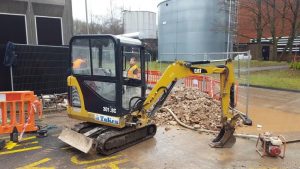 With many years experience in civil & Utilities based groundworks, we specialise in water leakage detection & not just that, we then have the skills to effect both temporary & permanent repairs all geared around the needs of the water consumer.
We understand how critical a good water supply is to many industries and we understand the importance of a fast & effective leakage response for client water retail companies.
Token Engineering has an established pedigree with several large water & utility companies and would be glad to discuss how we can help your water retail organisation better serve its customer base regardless of location.
Leak Detection – Excavation – Rectification – Reinstatement
Partner with Token Engineering and deliver customer satisfaction