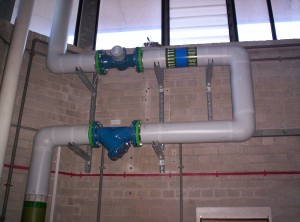 From leakage detection through to rectification or starting with an audit of water usage, the expert Water Engineering Team at Token Engineering can ensure that your organisation is making best use of your water supply in a safe, environmentally aware, efficient & cost-effective manner.
Water Leakage: The team has a number of techniques available to firstly determine if a leak exists, the size of the leak and to then identify the location and undertake whatever repairs are necessary. [More Information on Water Leakage]
Water Audit: Determing the usage patterns of a site or organisation's water usage is a critical tool in controlling costs or making effective production decisions. Our audit specialists can carry out consumption analysis, data logging & sub-metering to provide the information needed to make decisions about water use, identifyuncontrolled usage and highlight Water Leakage Vs Water Wastage. [Water Audit & Efficiency Services]
Lead Pipe Replacement: The Token Engineering team carry out replacement pipe installations (whether for lead pipe replacement or to improve flow) across all domestic, industrial, commercial, Local Authority & Public Sector scenarios. Being WIAPS approved you can be sure that all work is carried out to a high standard and we particularly take a pride in high quality reinstatement works.