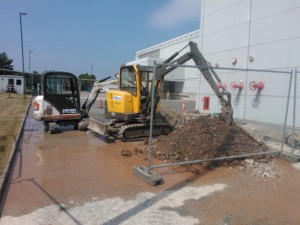 Earlier this year, significant underground water leakage was detected and repaired at News International's site in Knowsley which was affecting the overall operation of their fire protection system.
Leakage engineers were able to identify a significant area of interest for underground leakage within ½ hour of entering the site. Further leak detection activity was then undertaken to confirm the position and provide a solution for the excavation and repair of the offending leak.
Token's leak repair team was then mobilised to excavate and subsequently expose and repair the offending leak.